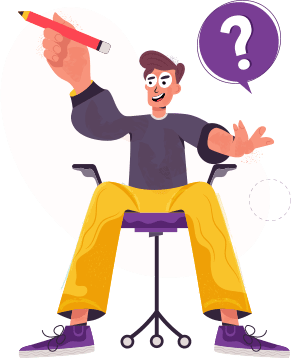 I have to write an essay, but I don't know where to start! Got same problem?
No, I know what to write!
Oh, yeah!
Comparison and Contrast Essay Example
Have you ever wondered why there is so much written about love, romance, and relations? I am sure that almost every writer had a desire to express his opinion concerning these eternal topics and share his views either in a short story or in a large novel. Whether we want it or not, everyone faces love and overwhelming emotions at least once in a lifetime. We are human creatures and falling in love is typical of us. However, love and relations can turn out to be either inspiring or completely disappointing or even be a combination of both components. The main thing is that every relationship provides us with priceless experience and a better understanding of individuals and some other aspects.
Love provides words with wings, the way pigeons are given freedom, and let go in the azure blue sky. People who are in love shine and glow with a great amount of happiness and power, and they often want to drown in the bottomless eyes of their sweetheart that are full of charming tranquility and invisible grace. Love makes us share emotions and feelings as if we share colored reflections of our hearts and in such a way provide other people with strength and power. Love is similar to overdosing from sugar for those who suffer from love diabetes. Diabetes of love is an overwhelming disease that has become a constant component of our blood and is retrieved in our genes, echoing the soul.
Hearts Half Off by Gregory Sherl
All three stories such as "Hearts Half Off", "Jealous Husband Returns in form of Parrot", and "How to Date a Brown Girl" have much in common as they all discuss the issue of relations between genders and their feelings. One of the ideas that appear from these stories is how to create successful relations and what are the main components of them. Junot Diaz, for instance, discusses the issues that are quite typical of the adolescence period, such as ethnic mix-ups and methods used to attract the attention of the opposite sex. Moreover, both Diaz and Butler have such a theme in their stories as accepting things the way they are, even if they turn out to be quite different from what we expected and waited for. As for Gregory Sherl and his story "Hearts Half Off", it is full of thoughts regarding such notions as love and fear to fall in love.
You can buy essay writing on this or any other topic at our service!
Jealous Husband Returns in Form of Parrot by Robert Olen Butler
In Robert Olen Butler's "Jealous Husband Returns in Form of Parrot", the main problem is the narrator's inability to trust the woman he loves and to share his true feelings and emotions with her. His fear to lose her serves as a barrier between them that is blocking the development of their relationship. Such feature of character as vulnerability is peculiar to the narrator and it is one of his weakest points. Unfortunately, such a strong fear and indecisiveness of the narrator result in his death at the end of the story.
First-time customers get
15% OFF
Moreover, the narrator is completely overwhelmed by his jealousy; the following quotation proves this idea, "the glances that I could see in her troubled me deeply, the movement of her eyes in public to other men, the laughs sent across a room, the tracking of her mind behind her blank eyes, pursuing images of others, her distraction even in our bed, the ghosts that were there of men who'd touched her, perhaps even that very day. I was not part of all those other men who were part of her. I didn't want to connect to all that" (Butler). The narrator could not submit this fact and accept the situation; he "sensed them inside her and so they were inside" of him (Butler).
This story shows a man who loves a woman devotedly but cannot share his feeling with her. The narrator considered himself to be "a faithful man, for all his suspicions. Too faithful, maybe, ready to give too much and maybe that's the problem" (Butler). Moreover, it is far more convenient for him to spy on his wife and her new boyfriend instead of making some actions to show his love and devotion to her. As we know from the story narrator is later reincarnated as a beautiful parrot that is reunited with his wife by fate. In my opinion, such a comparison of a man to a parrot is very appropriate in this situation as it emphasizes the significant gap between the two people who are in a certain type of relationship.
How to Date a Brown Girl by Junot Diaz
In my opinion, it is a great weakness to hide your worries and true emotions. Every relationship should be based on trust, honesty, support, and understanding. There are no perfect relations and every relationship requires much effort, patience, and work. If there are some problems or some misunderstanding, people should discuss and resolve this issue immediately and not just run away from it. It is important to fight for your love and your beliefs and not give up immediately in case something goes wrong. At the end of the story, the narrator decides to "fly even though he knows there is something between him and that place where he can be free of all these feelings. He will throw himself there again and again" (Butler). Moreover, according to Buttler, it is very difficult to fall in love again and build a new relationship in case you cannot get rid of memories and feelings from the previous one. He wonders, "How can we be whole together if you are not empty in the place that I am to fill?" (Díaz).
Diaz created a sort of dating guide that can teach the average Dominican American the basics of relationships and the way they should be created and developed. For instance, Diaz offers to "run a hand through your hair like the white boys do, even though the only thing that runs easily through your hair is Africa" (Díaz). It is possible to notice cynical cracks in his narration and such an approach makes the story exciting and hilarious (Gottlieb).
Moreover, Diaz applies some of the Dominican cultural differences and peculiarities in his short story, and he also emphasizes the impact of ethnic aspects on relations. The race of females dictates the appropriate behavior and defines the way it is required to communicate, have dinner, and some other aspects. For example, "the white ones are the ones you want the most, aren't they, but usually the out-of-towners are black, black girls who grew up with ballet and Girl Scouts, who have three cars in their driveways" (Díaz). Besides, Diaz is quite objective in his narration, and he focused on the issue of different attitudes and behavior due to some particular ethnicity.
Summary
All three stories discuss such aspects as romance, love, and relations. Each story tried to shed more light on the specific aspect; for instance, Diaz in his short story "How to Date a Brown Girl (black girl, white girl, or halfie)" determines the required behavior for the initial stage of a relationship, and Butler in "Jealous Husband Returns in Form of Parrot" analyzes the consequences of the impact of such notions as fear, misunderstanding, and vulnerability on the relationship. Gregory Sherl and his story "Hearts Half Off" is a rather philosophical one and it provides every reader with a great range of thoughts and personal worries. This story mentioned several most widespread approaches to break hearts; however, some cracked hearts manage to recover in case somebody tries to save them at any price.
Moreover, Gregory Sherl mentions that for many people it is quite difficult to fall in love again as people are simply afraid to get hurt again and feel any strong emotions. Although the themes are quite similar the style and narration differ a lot. For instance, "How to Date a Brown Girl (black girl, white girl, or halfie)" contains cynical elements and is written humorously. All these stories can be considered to be very useful and worth reading as the notions of love and relations are always actual. Moreover, these stories can serve as priceless experiences, and in case the reader can analyze the stories and understand the writers' points of view, he or she will manage to prevent similar disappointment and pain in her relationship.
Related essays
Customer`s comment
6 days ago
My paper was done 8 days before the deadline, and it was perfect in every way. Thank you to your writing service and the great writers who give you the reputation that you have. Whenever I hear anyone mention Essays-Writer.net, it is usually something like, "Yeah, those guys are the greatest." You really are. Thank you very much.
Customer
Customer`s comment
13 days ago
I just received my paper back from Essays-Writer.net and I am blown away by how good it was! The topic has never been one that interested me, but reading through what your writer did, I am very impressed! It is a good read! I think my professor is going to love it. I didn't find any errors at all, so there will be no need for rewrites. Best wishes,
Customer
Customer`s comment
22 days ago
My paper received a distinction, thanks.
Customer
Customer`s comment
28 days ago
The writing skills displayed by this writer are simply amazing. I guess I will bring all my assignments forth.
Customer
Customer`s comment
15 days ago
I doubted about the quality of my writing. However, the finished paper was well written. Moreover, it contained no mistakes. My tutor takes even the smallest grammatical mistakes very personally. Thank you! I passed it to the next level with your help!
Customer