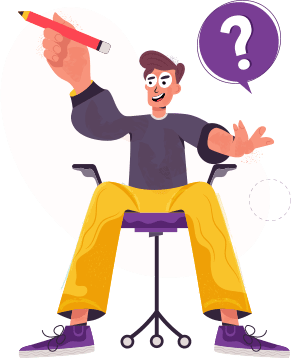 I have to write an essay, but I don't know where to start! Got same problem?
No, I know what to write!
Oh, yeah!
The Eighty-Yard Run
The drama of human life with its loss, anguish and missed opportunities is a theme for many authors. "The Eighty-Yard Run", a short story by Irwin Shaw, pictures the disillusionment of a man who once was a prospective football player but never repeated the success of his youth. Economic issues caused by The Great Depression, alienation from his wife, and continuous regrets are aspects of life that Christian Darling has to live with memories of fifteen years before. Using characterization, the author exposes the features of the protagonist, which root in his nostalgia and unfulfilled potential.
The Character Analysis of Christian Darling
When the character of the protagonist is analyzed, we should pay attention to several ways used by the author to create his personality. First of all, the very name of Christian Darling is quite illustrative because "darling" is a sympathetic way to address a person. It is emphasized that Christian is quite loveable and charming, that everyone was quite positive to him. At the dawn of his career, when he was a university student, he was already quite popular among his peers: "Everybody liked him and he did his job and he was pointed out on the campus" (Shaw).
You can buy book review writing on this or any other topic at our service!
A promising footballer, he was successful on the field, as well as in his personal life. At this point, his self-image is quite positive; he is adventurous, pushy, and confident in his ability to be on the top. Louise's affection looks like another prize for Christian, and it is quite clear that he was attracted to him because of his energetic and goal-driven personality: "She drove him around in her car keeping the top down because she was proud of him and wanted to show everybody that she was Christian Darling's girl."(Shaw). This time of fifteen years before the narration is presented as sweet memories, which are no longer the case.
There are drastic changes in all spheres of the Christian life, which have transformed his personality as well. He has become a person who focuses his mind on past victories and indulges in nostalgia instead of looking at his present with his eyes open. He has lost his confidence, and he has lost his career as a footballer because of the Great Depression that made many people take options that otherwise would be unacceptable to them. So, because it was necessary to survive, he took different jobs and was more or less good in terms of results but he never felt nourished with his activities.
First-time customers get
15% OFF
His eighty-yard run has become a metaphor for glorious days, which are in the past but which he secretly dreams to revive. This is why his return to the field where he played years ago is an impressive event. He wants to replay the whole situation of his past glory, even though he seems to be alone on the pitch. This loneliness is quite metaphoric because it symbolizes the fact that a person is alone in this life facing his fate, and that no matter how many people are around him, he has to fight his way on his own. The situation when Christian discovers that a boy and a girl are sitting on the turf and watching him is quite revealing.
It discloses the fact that the man feels insecure now, that he is no longer "darling" in the way he used to be. He is afraid of being ridiculed and feels a significant share of guilt and shame. His actions reveal his emotional state: "He stopped short, dropping his arms, "I …" he said, gasping a little, though his condition was, fine, and the run hadn't winded him. "I-once I played here."(Shaw). The use of the phrase "dropping his arms" describes the state of powerlessness that the protagonist goes through at the moment. Once a star, he is now an average man of thirty-five years with unclear perspectives and declining family life.
It is clear that the man has lost his faith and his true identity, he is not pleased with who he is now, so the final lines of the story reveal that inner conflict: "Darling laughed embarrassedly, looked hard at them sitting there, close to each other, shrugged, turned and went toward his hotel, the sweat breaking out on his face and running down into his collar" (Shaw). This scene of meeting a boy and a girl sitting on the turf of the field is quite revealing because there is an impression that Darling met a ghost of his past.
This couple of young lovers reminds the man of the way their relationship with Louise used to be and which is no longer as close and fulfilling. When years pass, the distance between the two grows and they stop having something in common. As it is mentioned, Louise used to be a keen fan of Christian, she watched him playing all his matches, even when he was all in the mud. However, in years of marriage, she stopped being as interested as she was, and this hurts Darling bitterly.
Summary
Christian realizes that he and Louise exist separately, each having their own life instead of having common goals, common dreams, and losses. This is disappointing to him, even though he is quite reserved and prefers to avoid talking about his feelings. For example, when they discuss Louise's interests, he shows his irony at times but there is discontent behind this irony: "Louise patted his arm, stood up, fixed her hair. "He's an English poet." Darling felt that somehow he had disappointed her. "Am I supposed to know who Emest Dowson is?" "No, dear. I'd better go in and take a bath."'( Shaw).
Thus, Christian sees that his wife prefers not to involve him in his life and her interests. He is no longer a "darling" who is welcome anyway, and this change is uncomfortable for the man and undermines his masculine confidence. Both of them move in different directions, and both choose the tactics of escapism. It is not accidental that Christian chooses a job that includes staying away for a long time. So, when he sees that his wife is getting estranged, he makes no attempts to change the situation and to become closer to her.
Such efforts would involve too much pain and open confrontation but he prefers a way of hiding from the truth. So, by his actions, he gives her away to live even more separately, so there is a premonition that their relationship is doomed.
Related essays
Customer`s comment
3 days ago
Now I know where to go when I need an excellent paper written on a short notice. I am very happy with the paper your writers just produced for me. It was absolutely perfect. Please thank the ones who handled my order and let them know that I will definitely do business with Essays-Writer.net again.
Customer
Customer`s comment
12 days ago
My experience with this service is great. I am going to continue my cooperation with you. I have to write lots of papers every semester. Therefore, I want you to assign the best writers to my orders.
Customer
Customer`s comment
26 days ago
I have used other writing services in the past and I tried you on a whim. I was pleased with the results and will use your services again.
Customer
Customer`s comment
30 days ago
I would strictly recommend this essay website! The writers are really cool. They write high quality content within very short time.
Customer
Customer`s comment
19 days ago
I am getting ready to graduate in another week, but had to take a minute to jot this line because I want you to know what a help your writing service has been to me, especially during my junior and senior years. The work has been hard, and I have had to study virtually all the time. With you helping me out with my more challenging writing projects, I have been able to move forward and do well on my tests and other school projects. I will be forever grateful to you for your help, and I wish you continued success with your fantastic writing service. All the best!
Customer