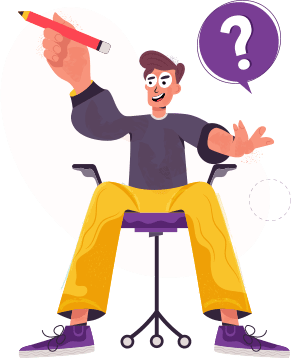 I have to write an essay, but I don't know where to start! Got same problem?
No, I know what to write!
Oh, yeah!
Introduction
"Bartleby, the Scrivener" by Herman Melville is a unique story, which depicts the real world based on charity, cruelty, and selfishness that determine the fate of the main characters. The author uses irony and symbolism attempting to demonstrate the truth of life even if it is unjust and sad. The plot of the story makes the reader plunge into the world of the protagonist that evokes feelings of compassion and kindness omitting a strange human behavior. Thus, the main point of the story refers to human nature and the appropriate attitude towards life and its meaning despite the fact that it costs nothing due to hopelessness and desperation.
The Plot
Life reveals that the world is cruel, and there is no place for a good person in it. In the story "Bartleby, the Scrivener", Herman Melville illustrates an ordinary plot, which is full of simplicity and misunderstandings at the same time. The author focuses on the themes of charity and selfishness that reflect human vices and the existing injustice of reality. He compels the reader to muse about the sense of life, the precise place of a person in the world, and other philosophical issues related to numerous questions left unanswered by Bartleby. The narrator is one of the main characters, being an obvious participant of the whole story from the very beginning to the last scene saying, "Ah Bartleby! Ah humanity!" (Melville 251).
In such a way, the narrator is a sixty-year-old lawyer that has his own office and works on Wall Street managing to conduct his advocatory business successfully thanks to his excessive efforts and three employees, Turkey, Nippers, and Ginger Nut. It is evident that a man is proud of his life considering himself as a good expert. Meanwhile, one day the lawyer realizes that he needs some additional assistance and hires a scrivener, Bartleby. Afterward, his life completely changes because this copyist will leave a scar in his soul and even mind forever. Working thoroughly day by day, Bartleby completes all the papers but refuses to fulfill other requests and assignments saying: "I would prefer not to" (Melville 21).
As a result, this phrase becomes the layer's obsession, showing that it is high time to get rid of Bartleby, his strange behavior, unexplained attitude towards life, and his personal refusal to work. Having an irresistible desire to fire Bartleby, the lawyer reveals much mercy and patience to his scrivener, but a young man finishes his life in prison and dies there despite the fact that he has not committed any crime.
Life is different, and Bartleby also differs from other characters demonstrating his indifference to life and everything that happens around him. Melville portrays Bartleby, Turkey, Nippers, and Ginger Nut in a different way using simple descriptions that depict their nature. Bartleby associates with "a form of passive resistance" while claiming the same phrase all the time without any sensible explanation (Ryan 38).
These repetitive words are a significant part of Bartleby's character as the young man lives in his own world, which is closed from the people that surround him every day. It is obvious that Bartleby does not have anything in common with Turkey, Nippers, or Ginger Nut. He is polite and quiet but stubborn to obey his boss. It seems that the outer world does not exist for Bartleby as he is surrounded by solitude and loneliness because of the unknown inner sufferings that do not leave him in peace.
As for the narrator, he is amazed by Bartleby's decision to be a so-called working member of modern society. Moreover, the words "there was something about Bartleby that not only strangely disarmed me, but in a wonderful manner touched and disconcerted me" show that this stubbornness and resistance make Bartleby even power over the lawyer (Melville 35). Thus, Bartleby's isolation makes him unique and different in contrast to Nippers, Turkey, and Ginger Nut.
Life is often full of monotony like the actions of Turkey, Nippers, and Ginger Nut, but they exist to help the reader realize human nothingness and the irony of life. In fact, the reader even does not know the real names of these people, and it is not important. Turkey does not have any similar features to a turkey unless he loses his temper, and his neck becomes red resembling a turkey's neck. He is an old man that does not see the sense of life and just wastes his unneeded time drinking beer after the work.
Moreover, his draggled appearance means that he does not take care of himself at all, as it is not vital for him how he looks like and what other people think about him. The author describes him with irony saying: "his face flamed with augmented blazonry as if cannel coal had been heaped on anthracite" (Melville 6). Such a comparison makes him memorable, but it is understandable that a man does not deserve too much attention, as his attitude to life does not contain any particular characteristics interesting to observe.
In contrast to Turkey, Nippers is a young man that also completes all the assignments but quarrels only in the morning making the author call him "the victim of two evil powers — ambition and indigestion" (Melville 11). As for Ginger Nut, he is a boy that constantly buys ginger nut cakes for Turkey and Nippers. Undoubtedly, I think that such characteristics refer not just to humor, but they also reflect human nature and irony of life, which reigns over people.
"For decades, literary critics have argued over how to interpret the character of Bartleby" and the whole story, in general (Ryan 36). Observing the story, it becomes understandable that, in fact, there is no accurate information about Bartleby except his words "I would prefer not to", which have a powerful impact on other characters (Melville 21). Moreover, their constant use seems to protect Bartleby as the lawyer does not take the appropriate measures to punish him due to his disobedience at work. It is possible to assume that they symbolize only the present as the past and future do not exist for Bartleby, who lives exactly now even if he does not go outside and eats only ginger cakes.
Undoubtedly, critics want to learn who Bartleby is, and what he represents, but many of them claim that this image relates to Melville's life. At the same time, Herman Melville mentions at the end of the story such a miserable fact that Bartleby worked in the Dead Letter office burning all those letters sent by a large number of people that could save somebody's life. In this case, it is difficult to say exactly, but perhaps this minor addition about these letters is essential for the author, who tries to show that human hopes for a better future can vanish or be destroyed.
Conclusion
In conclusion, the story "Bartleby, the Scrivener" by Herman Melville reveals that human life is fleeting, unlike time which remains eternal in contrast to people. The author presents the main characters who demonstrate the appropriate value of life and its sense when a person dies due to the loss of hope for a better future. It is obvious that Bartleby rejects the future living just at this moment. At the same time, Melville also indicates that not just selfishness can rule the world but mercy as well. Undoubtedly, the truth of life is cruel despite its irony, which defines the position of every individual in society.
Related essays
Customer`s comment
26 days ago
I was already getting scared that I won't finish the assignment before someone recommended you people. The writer has made me alive once again.
Customer
Customer`s comment
22 days ago
Thank you for your care of my essay writing assignment. I have received a wonderful paper. It is amazing!
Customer
Customer`s comment
27 days ago
My writer reviewed my thesis from the very beginning to the end and really cleaned up the grammar. I also took his suggestions about some sequencing issues, and it flowed so much better. I am continuing my graduate work and shall be back for more assistance!
Customer
Customer`s comment
30 days ago
The fastest and the most accurate essay writing provider on the Internet! I admire your quality and speed writing! Thank you!
Customer
Customer`s comment
1 days ago
Wow! I am very happy with this paper's quality. This is my first time to use a writing service, and I am so pleased that Essays-Writer.net was the one I used. I had heard that this was the route I should take. I have no doubt that the person who told me this was correct. You do fantastic work. Thanks so much.
Customer