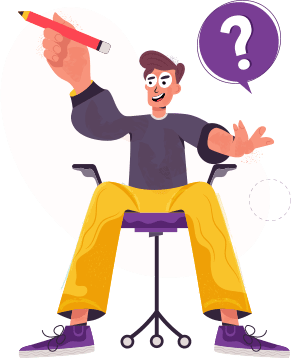 I have to write an essay, but I don't know where to start! Got same problem?
No, I know what to write!
Oh, yeah!
Major Challenges in the Scenario
One of the major challenges in this scenario is ineffective communication. It is ineffective due to disruption of the individuals involved in communication by other individuals. At the beginning of the video, we see a different lady talking over a telephone in loud voice, while the lady receptionist is serving other customers. Due to disruption, the lady receptionist is forced to talk in high tone. This causes the client lady to mistakenly think that the receptionist is referring to her when she says, "Hallo, how may I help you." Another major issue in this scenario is lack of observation of communication norms. The lady lacks respect for the receptionist and other customers, while the receptionist lacks patience towards the lady. The lady tries to seek the attention of the receptionist when she is attending to another customer. She keeps disrupting the communication between the receptionist and another customer until the receptionist asks one of the hotel attendants to help the lady despite being aware that the attendant was not in a position to assist the lady due to language barrier.
First-time customers get
15% OFF
What We Can Learn from the Scenario about the Importance of Effective Communication
From the scenario, we learn that the importance of effective communication in the workplace is to help us meet the needs of the customers and those of other organizational members. The lady receptionist could have achieved effectiveness by exercising patience and flexibility when communicating to the customers.
Effects of Nonverbal Communication to Employees with Visual and Hearing Disability
Use of nonverbal communication in an organization where some employees have visual or hearing disabilities aids in improving the effectiveness of communication. Through non-verbal communication, an employee with hearing or visual disability can be able to understand the nature of message being passed across even if he/she cannot see or hear the person giving the information.
Impact of Communication Technology on Organizational Behaviour
The most likely impact of using technology to conduct communication activities in the workplace as opposed to physical communication is destruction of interpersonal relationships among organizational members. This is because there is no face-to-face communication or emotions involved in communication technologies. Consequently, employees are unable to develop workplace relations that have trust.
Related essays
Customer`s comment
18 days ago
I just cannot realize my life without this essay papers writing provider. It is amazing! I can order my papers any time I need!
Customer
Customer`s comment
17 days ago
Dear Madam or Sir, Thank you for your competence and high standards. My paper was wonderful! I shall recommend your writing services highly. You are far and above better than other writing services that I have used. Your professionalism, attention to detail, high quality writing and great prices are a few of the reasons why I will never use any other writing service. Thanks again.
Customer
Customer`s comment
23 days ago
The writer who produced my essay on European History did a fabulous job! A million thanks for creating such a masterpiece for me. The essay is just what I wanted.
Customer
Customer`s comment
14 days ago
I was irritated because of my research papers assignment. I even could not sleep at night. Moreover, I did not have proper experience and free time to work on my writings. This essay site is my hero! You helped me coping with all my writing problems! I became more confident as I received the highest grades! I cannot express all my emotions about this. Thank you!
Customer
Customer`s comment
14 days ago
Your writing service is outstanding! Thank you for the paper on European History after 1940! I am not a good history student. I find the subject very dry and boring and I just couldn't get into writing about it. I made a number of failed attempts before I finally went online and read up on which writing services were which. By far, Essays-Writer.net got the best reviews, and now I understand why. Your customer service department is comprised of real professionals who really understand what it means to help. Your writers are excellent and easy to work with, and your work is fully guaranteed. Of course, my paper was so perfect that I didn't have to use the guarantee, but just the fact that you offer such iron clad guarantees tells me that you are a trustworthy writing service. I am so pleased to have found you. I will never use any other. Why should I? It just doesn't get better than Essays-Writer.net!
Customer